Archive for the 'General' Category
The POWER PACKED Features INSIDE FOTOPRESS That Make it SO POWERFUL…. and give your WordPress Site Superpowers
Go & create a new post/page and you'll find FotoPress right there to help you find, edit, create and manage images in photoshop style right inside your WordPress site.

Finds you 2 Million+ Royalty-Free images from 4 TOP SOURCES
Finding the right image for your blog content or website can be hard. It could sometime even take hours to pick the one that fits your site the best. Scouring 100s of websites is not a good idea (or the best use of your time) that's why we made it EXTREMELY SIMPLE – 1 click search that finds you over 2 million images right inside your WordPress site.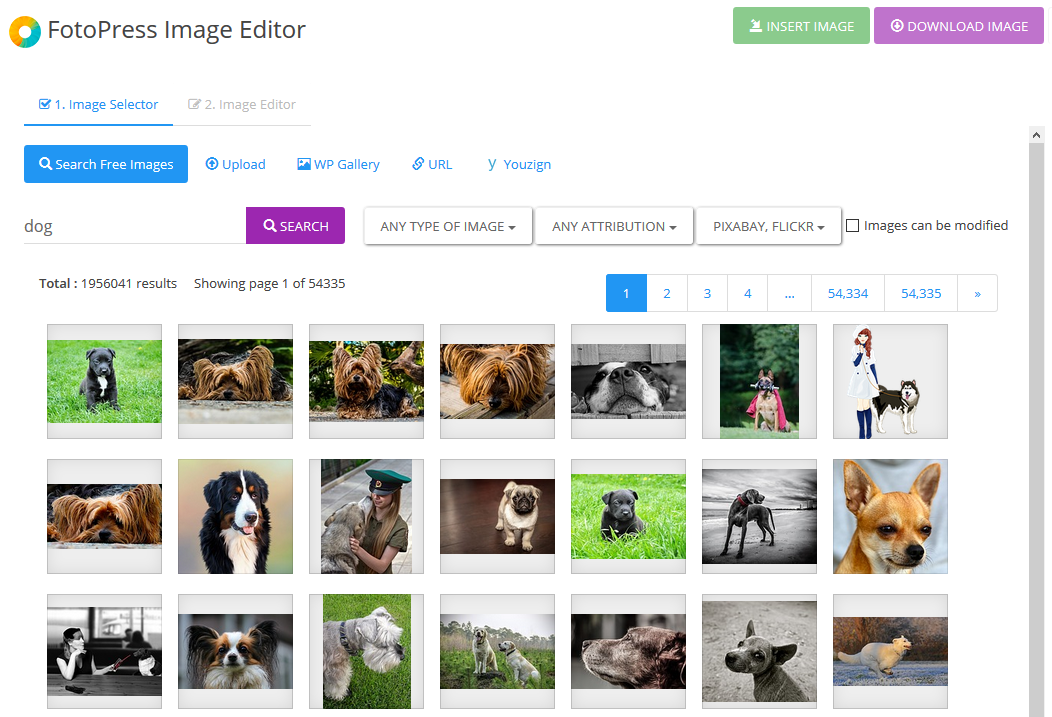 1-Click Crop, Resize, Rotate and Edit
You may hardly use the images you find online exactly in the same size on your content pages – you need to MAKE IT FIT. That's why we added a quick 1-click edit feature that makes it extremely simple for you to get the right size/shape of the image you want.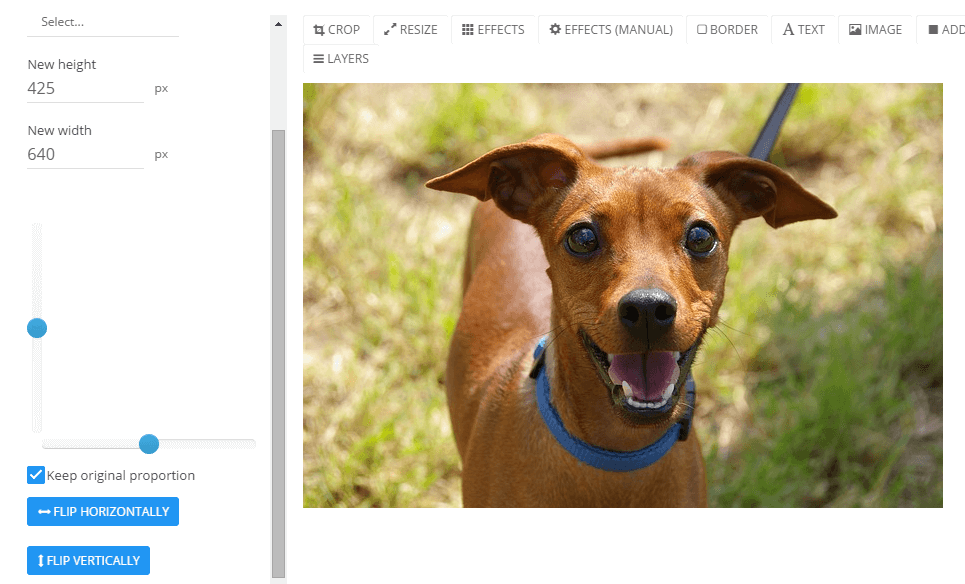 FULL Photoshop Style EDITOR
The #1 feature that makes this plugin a must-have for every WordPress site, the full featured editor lets you create, edit, re-touch, optimize and add effects to any number of images you want – just see our DEMO and you'll see how simple and extremely effective this is.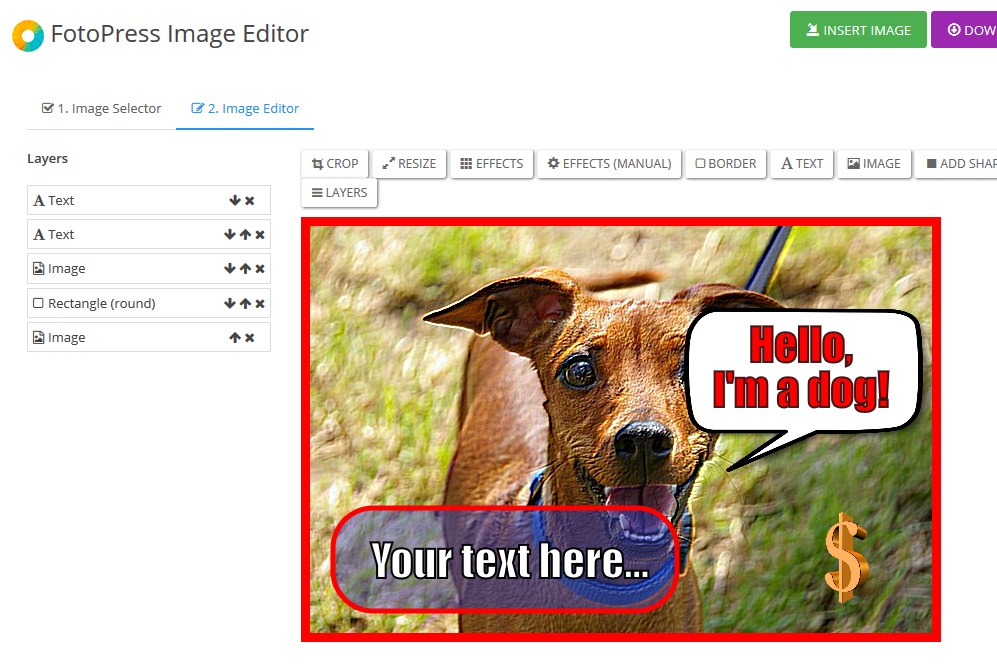 UNLIMITED LAYERS Support inside the Editor
Never before has any other WordPress photo editor had the support for Unlimited LAYERS just like Photoshop which lets you do advanced editing tasks and create complex images super-fast.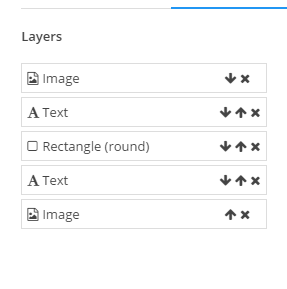 20+ Instagram like FILTERS
Instagram has taken social media by storm. Their strongest feature – Image Filters is now in your hands right inside your WordPress site. Now you can pick from any of the 20+ filters and make your images stand out from the rest in 1-click.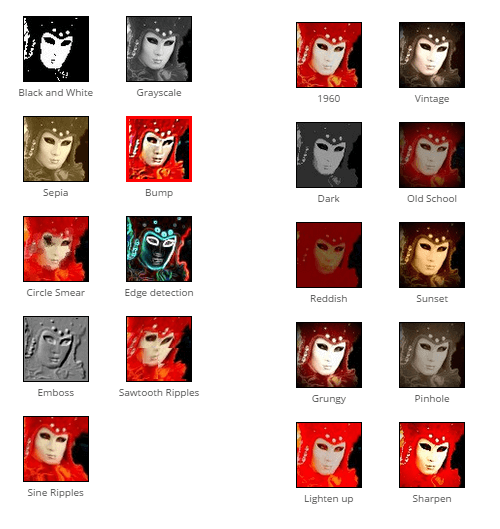 100+ Special Effects for your Images
Advanced effects is what photoshop is known for and we made sure you had all those effects for your images inside your WordPress site as well. Now you can apply a COMBINATION of 100+ effects to your images and create unlimited complex images for yourself.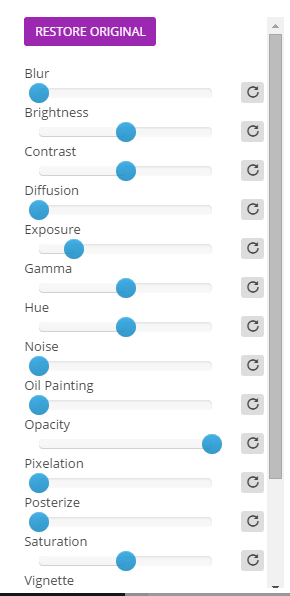 SEO Optimize Every Image You Add
99% of Marketers/Site owners never SEO-optimize their images and miss out on a huge amount of easy to get traffic that comes from Google Image search. Don't make that mistake because we've made it extremely SIMPLE to SEO your images.

LIMITED TIME DISCOUNT!
ACT NOW to Get Instant Access to FotoPress At 80% OFF!
Over the last few weeks we have been making videos with our iPhones and ITouch thanks to a great course by Jules.Watkins who is a professional TV producer and Camera man. We have been doing this for ourselves and our customers.
If you own an iPhone 4 or 4s, iTouch or iPad then you need to check out the World's first iPhone Video training programme!
Go here to get it.http://tinyurl.com/8e54t8l
Go here to get it.http://tinyurl.com/8e54t8l
The are plenty of samples for you to see how great this is.
Former MTV and BBC TV Director Jules Watkins has created a video based course that will show you how to make awesome videos using your iPhone. Jules has directed hit TV shows including The Biggest Loser and Pimp My Ride and knows a thing or two about how to make videos that attract a following.
The videos he has made on his iPhone for this training will stun you!
If you are an entrepreneur, biz owner or just want to make better videos with your iPhone then you need to watch Jules' video at iPhone Video Hero.
Go here to watch it.http://tinyurl.com/8e54t8l
Sample Iphone Video

FAQ'sI'm going to buy the New iPhone 5 will the training still work?YES As soon as I get mine I'll be adding new training as a FREE UPDATE!

I only have an iPad, can I make good videos with it?

YES The iPad 2 and the New iPad shoot great video (I cover this inside). You can use the best Apps and many of the same accessories as an iPhone owner.

I have the latest iPod Touch will your training be good for me?

YOU BET the iPod shoots video at 720p just like the iPhone 4 and you can access all the cool Apps and accessories.
o here to watch it. http://tinyurl.com/8e54t8lInside iPhone Video Hero …
Pro Quality
How to get $2,000 quality out of your iPhone's Video Camera so your Videos shine on screen! (Hold off on that heavyweight Pro-cam!)
Get Steady
How to keep your iPhone rock steady even when you are handholding.
Lighting
Lighting can make or break your videos – I'll show you the best low cost solutions. You'll be able to add sparkle to your Videos by learning step by step from my own setup.
Sell More
Want to make clean looking sales and blog videos? Create that famous Apple white background look with your iPhone! (Download my own lighting plan)
Filming Yourself
No flip-out screen – No problem! You'll find out how to film yourself and see how good you look at the same time 
Audio
Revealed: The little known accessories that will allow you to capture crisp audio on your iPhone using an external microphone.
Video testimonials
Win more business by shooting attention grabbing customer testimonials. See how I help a fitness trainer shoot a testimonial. (You also get my cheat sheet – the questions you MUST ask your clients!)
Up Close
Up Close & Personal. How to film a small physical product. Perfect if you are an e-tailer or an inventor and want to promote your products using the power of video marketing.
Apptastic!
My step by step guide to the best Video Apps in the App store. Handpicked by me so you don't waste time and cash on the bad ones!
Make a Video Ad in minutes!
Make a live action Video Promo or Directory Listing using a free under the radar App. Hint: Clients will pay for a Video like this!
iMovie Mogul
My easy editing guide to iMovie on your iPhone/iPad will get you up and running fast.
Accessories Guide
You get my comprehensive and insanely popular accessories guide so you don't spend $$$ buying the wrong gear!
NEW! iPad Love
Want to shoot video on your iPad? I'll give you some killer tips to max out your videos!
Social Sharing
The fastest ways to get your videos seen on facebook and YouTube.
Free Music
Quality Free Music to download and use in your Videos, on Youtube or on your website. (Requires a credit)
Plus More!
Over 3 hrs of high value, laser focussed content including my EXTRA 3 Special Bonuses you'll discover below.
This program is for you! The Internet Marketer
Video Marketing is hotter than July and you need to create a stream of Video content – FAST. You don't want to invest in expensive equipment right now but you want your Videos to look professional so that you sell more. Your clients need Video and you want to make extra money by offering Video Services or showing them how to make their own Video content.
The Blogger
You want to grow your readership in double quick time and you know pushing out Videos can bring people back to your site via facebook and YouTube. Other bloggers are doing Video and you want to get started ASAP. But you want to keep it lean and use the portable tools you already own to maximum effect.
The Entrepreneur
You know more than anyone that Video is now essential if you want to succeed online. You need excellent Videos to get more email opt-ins and to sell more of your products & services. You see how others in your niche areusing Video to build their personal brand and create Video products and you want to learn new Videos skills quickly without the overload.
The Business Owner
Everyone is talking about the benefits of using Online Video and you want a piece of the action! You need to build your presence and rankings on YouTube and Google and raise your profile on Social Media.
Your goal is to make videos showing your business in action or demonstrate physical products. But, you don't want to blow 1000?s on Pro-Videos before you see results.
Testimonials
"I made the training very much over the shoulder and easy to watch, whilst being educational. You actually see what I see. I went out and filmed real biz owners who knew they needed videos but weren't sure how to make them and didn't want to spend a tonne of money paying a pro like myself! My goal was to show publicity hungry entrepreneurs they already have an amazing tool in their pocket for creating web videos – their iPhone!"
"iPhone Video Hero is action packed training. From how to shoot better vlogs and promos including stabilising tricks, economical lighting set ups and how to capture crisp audio with external microphones. I also show you how to make effective customer testimonials and how to make a high value Video Advert with an app that edits your footage for you!"
Go here to watch it. http://tinyurl.com/8e54t8l
Hope you like this as Video is becoming very inmportant to any marketer, business or Offline Consultant. Quentin
 Iphone Video
Graphics in your web page are mainly used to add eye candy but what if you could have a nice WordPress image editor right inside your admin page?
So thats the software and it is a great price however there is a little more to it when using the added wordpress image editor.
To really make this work for you make sure you also add this information to your graphics.
Step 1  For you Wordpress image editor
Use the wordpress graphics editor to pick and add your graphics. Then use some of the functions to improve the look etc and add to your content.
Step 2 for your Wordpress image editor
Once it is added click on the graphics to see your options and go and add a great alt text utilizing your keyword or phrase that you are targeting for the content.
Make sure the keyword or phrase is the same as you use in the text of your content for great SEO.
After purchasing Image Presser they have available after purchase a Pro Version, where you can also have Pinterest user interaction, Wikicommons Image search and inserting of images and auto posting to media sites.
Huge features here…At the moment it is around $40 for the developer license and $20 for the multi site licence.
GUARANTEE
If it does not meet your high expectations, then within 30 days let us know and we will refund your full purchase price.
Our new course on how to create Artisteer mobile sites
You will need to buy a copy of Artisteer
We have been using Artisteer for over three years and it has given us the advantage over our competition by allowing us to make custom themes for our customers. You can make unlimited desktop and Artisteer mobile themes for the one low price.
Utilize the great aspects of WordPress and Artisteer
We started some of the mobile frenzy last year with our Business Mobile Website product which helped entrepreneurs to start their own Mobile Website Business. Now there are hundreds of Mobile Products around many based on our training.
Now its time to introduce you to how we use Artisteer Mobile themes to create great looking Mobile Websites that can be run as a blog or a Content Management System using WordPress.
Mobile And Desktop Themes
The best thing about using Artisteer for your WordPress Content Management System is that you can create unlimited themes in all different designs and colors for yourself and your customers and retain the branding values for these sites.
Mobile Template no header
Graphics in Content 
Mobile Template Text header
Graphics in Content 
Mobile Template Image header
Graphic on every page 
What Our Customers Say
Once our customers realize the power of mobile websites a few pages is just not enough so we needed to create a much more versatile system that would allow multiple pages and subpages, posts and categories.
WordPress is a fantastic Content Management System that allows us to do all this and more. We can add numerous plugins to extend the functionality of the mobile website and also generate added revenue through hosting their mobile website. We can also duplicate their color scheme for seamless integration.
Scan the QR Code For A Live Preview
Of One of Our Artisteer Mobile Themes
Our Mobile Magazine with one of the Artisteer Mobile templates
Artisteer Mobile Templates
There has been a lot of discussion about how to create Artisteer Mobile Templates and we have developed a system to do this.
Artisteer is not actually built to create Mobile Templates however with a little tweaking you can build great mobile templates with just a little tweaking.
It is not just a matter of making your templates 100% as this will not address the mobile platform. These are stretch and fit techniques so your site will fit all major smartphones.
Create Unlimited Pages and Posts
Once you create your Artisteer mobile templates and upload your new theme to WordPress and customize some settings you can create unlimited pages and posts in your new mobile website.
Create Artisteer Mobile Themes
Contact us if you need help
If you're selling products or services you'll know that one of the biggest challenges we face is getting repeat traffic.
A great way to do that of course is by building a mailing list of opt-in subscribers or directing customers to your best products and services.
The problem is how to capture your visitor's details without alienating them with a huge great hover popin or such like.
Well now I think I've found a solution…
I've recently come across a cool little script called Ultimate Footer Ad that slides a small strip up from the bottom of your browser.
You can use it to capture email subscribers, as well as convert visitors to rss subscribers or twitter followers.
It does it all…
What it doesn't do is annoy your visitors by stopping them from reading your valuable content.
The feedback on this software has been amazing:
John Chow describes it as…

– One of the best promotional tools I have ever used.

And Legendary marketer Terry Dean had this to say…

– I've added 126 extra new subscribers to my list just in the past week.
Not only that, it's dead simple to use. You can literally have this thing installed and running on your website in 10 minutes.
So if you're looking for a way to increase traffic and revenues with your blog, hit the link below now to grab your copy before this really catches on…
Best wishes,
Quentin Brown
P.S. Top UK marketer Frank Haywood used this tool to increase his average daily blog subscription by 249.84%. So the longer you wait, the more subscribers you're missing out on. Check out it out now
I just wanted to share with you this tools.
With this software you can do all this tasks.
Free Studio is a single package which bundles all free software from DVDVideoSoft to work with DVD, video and audio files!
With this free software you can convert video and audio files between different formats and to iPod, PSP, iPhone, BlackBerry and other portable devices; burn and rip DVDs and audio CDs; upload and download videos and music to your computer, iPod, PSP, iPhone and BlackBerry; perform basic editing of audio and video files.
Description
Free Studio is a single package which bundles all free software from DVDVideoSoft to work with DVD, video and audio files!
With this free software you can convert video and audio files between different formats and to iPod, PSP, iPhone, BlackBerry and other portable devices; burn and rip DVDs and audio CDs; upload and download videos and music to your computer, iPod, PSP, iPhone and BlackBerry; perform basic editing of audio and video files.
Free YouTube Download
Free YouTube to MP3 Converter
Free YouTube to iPod and PSP Converter
Free YouTube to iPhone Converter
Free YouTube Uploader
Free DVD Video Converter
Free Video to DVD Converter
Free Video to Flash Converter
Free 3GP Video converter
Free Video to iPod and PSP Converter
Free Video to iPhone Converter
Free Video to MP3 Converter
Free Video to JPG Converter
Free Audio Converter
Free Audio to Flash Converter
Free DVD Video Burner
Free Disc Burner
Free Audio CD Burner
Free DVD Decrypter
Free Audio CD to MP3 Converter
Free Video Dub
Free Audio Dub
Free Video Flip and Rotate
Mikogo is an easy-to-use cross-platform desktop sharing tool, ideal for web conferencing, online meetings or remote support.
And it's FREE for both commercial and private use.
Effective communication is the key to successful business. Although face-to-face communication can appear fast and straightforward, in many cases, it is simply impossible due to distance. Thus, people travel for their business meetings.
According to the statistics published by the UK Department for Transport, commuting and business trips constitute 19% of all trips made in 2008; and of all miles driven by car, almost 40% were composed of commuter and business travel. While business travel facilitates communication, it carries with it the substantial expense of both time and money.
Luckily, advances in technology have brought new possibilities. And desktop sharing software is one of these. Desktop sharing software is an application through which one can share computer screen content live over the Web with others. It might sound trivial, yet it is a powerful tool, applicable in various business occasions such as online meetings, web conferencing, web presentations, online training and remote support.
1. Online Meetings:
Desktop sharing allows for real time cross-office collaboration among many colleagues. By sharing the same screen content, such as an image, a graph, or a chart, meeting participants can see exactly what others are referring to very quickly.
Session time is shortened because the desktop sharing app saves you the time that you would have spent describing what you see to meeting participants. Moreover, the "switch presenter" function of the desktop sharing tool allows an appointed participant to share his/her screen. This transforms a one-way communication into an interactive one and thus makes the meeting more productive.
2. Web Conferencing:
Desktop sharing tools are frequently used to conduct web conferences as well. The presenter can use the desktop sharing tool to send out an invitation and inform attendees of the necessary info to join the web conference. There is no need to distribute files in advance because participants can view any files shown on the presenter's screen in real-time or ask the presenter to transfer the files via the desktop sharing application's file transfer feature.
3. Web Presentation:
Web presentations enabled via desktop sharing are a perfect way for companies to interact with customers and clients. With desktop sharing tools, not only can salespeople demonstrate their products but they can also invite customers to experience the product, such as software programs, by handing over remote control of the computer's mouse/keyboard.
4. Online Training:
By using desktop sharing tools in employee training, companies can save considerable money because they no longer need to set up projector equipment or pay for the travelling cost of external lecturers. Instead, a lecturer's teaching material can easily be shared from their computer screens via a desktop sharing app for all their participants to view. Lecturers can also utilize such desktop sharing features as "participant pointer" or "whiteboard" to engage trainees and thus create an interactive learning environment.
5. Remote Support:
Some desktop sharing tools include remote keyboard/mouse control function, which is particularly popular among IT companies. Now, with just a few mouse clicks to start the desktop sharing app, support personnel can request to view a clients' computer screen as well as control the client's keyboard and mouse and therefore offer timely technical support. One can also record the whole technical support session for documentation and any future cases.
Understanding the advantages of desktop sharing applications is one thing; finding the most suitable one to achieve the greatest effect may be another, especially when there are several desktop sharing tools on offer and each has its own features. Here are a few things to consider:
Functions
When choosing desktop sharing tools, start from scratch and list the functions that you truly need. For example, if remote support is part of your services, then you should exclude those without remote keyboard/mouse control.
Computer Knowledge
The point of using a desktop sharing app is to facilitate communication. High level technology only works when users know how to make it work. Thus, choose a tool that is accessible and easy for users, including the average computer novice.
Video Tutorials for PC and Mac
Security
In the business world, the confidentiality of business information is of great importance. Choose a desktop sharing tool that conveys your information in a secure way. 256-Bit AES encryption is widely recognized as a secure form of communication architecture.
Reliability
It is crucial that the desktop sharing solution is reliable. If it freezes during your session, this would disrupt the flow of communication; even worse, you would leave your customers/clients with an unprofessional impression.
Budget
A desktop sharing solution is not an exclusive privilege to big companies with huge budgets. Small businesses with small budgets can also enjoy the convenience brought forth by small business software including desktop sharing tools. Freeware is actually a good starting point as it does not incur any costs and usually includes the core functions you would need in online communication.
In a time of globalization, businesses and services take place anytime and anywhere. Desktop sharing solutions improve the efficiency and effectiveness of cross-office collaboration, online product demonstrations, employee trainings and customer services at little or no cost. With it, small businesses can save a substantial amount of time and money and achieve greater success.
One of the key skills we teach you in The Internet Marketers Club is Search Engine Optimization.
Now there are a lot of courses around on this however we like to give it to you straight from the horses mouth.
The following link is the online Google's SEO Starter Guide which is in PDF format.
This is the basics of Search Engine Optimization and once you have learnt this we can then move onto more advanced optimization techniques.
The Search Engine Optimization Starter Guide covers around a dozen common areas that webmasters might consider optimizing.
Videos
There are lots of videos available directly from google Chief Matt Cutts
These areas (like improving title and description meta tags, URL structure, site navigation, content creation, anchor text, and more) would apply to webmasters of all experience levels and sites of all sizes and types.
Throughout the guide, they also worked in many illustrations, pitfalls to avoid, and links to other resources that help expand their explanation of the topics. They plan on updating the guide at regular intervals with new optimization suggestions and to keep the technical advice current.
Download the Search Engine Optimization Starter Guide
Below is a list of all of the google products I could find. Add any more I have missed in the comments.
Standalone applications
Desktop application to manage a Google AdWords account. The application allows users to make changes to their account and advertising campaigns before synchronising with the online service.
Chrome (Windows XP/Vista, GNU/Linux (Beta), Mac OS X (Beta))
Web browser.
Desktop search application, that indexes e-mails, documents, music, photos, chats, Web history and other files. It allows the installation of Google Gadgets.
Virtual globe that uses satellite imagery, aerial photography and GIS over a 3D globe.
Gmail/Google Notifier (Mac OS X, Windows 2000/XP)
Alerts the user of new messages in their Gmail account.
Collection of computer applications — some Google-created, some not — including Google Earth, Google Desktop, Picasa, Google Talk, and Google Chrome.
Slideshow screensaver as part of Google Pack, which displays images sourced from a hard disk, or through RSS and Atom Web feeds.
Photo organization and editing application, providing photo library options and simple effects.
Picasa Web Albums Uploader (Mac OS X)
Quick search box (Windows, Mac OS X)
A tool box like run in windows from where you can avail all the features of the run dialog, type a keyword and search google, type an application name (on your computer) to launch it, type a web URL and launch it from the default web client. This tool box is very user friendly. Based on Quicksilver (software).
VPN client for Google WiFi users, whose equipment does not support WPA or 802.1x protocols
SketchUp (Mac OS X and Windows 2000/Windows XP)
Simple 3D sketching program with unique dragging interface and direct integration with Google Earth.
Application for VoIP and instant messaging. It consists of both a service and a client used to connect to the service, which uses the XMPP protocol.
Visigami (Mac OS X Leopard)
Image search application screen saver that searches files from Google Images, Picasa and Flickr.
Input Method Editor that is used to convert Chinese Pinyin characters, which can be entered on Western-style keyboards, to Chinese characters.
Desktop extensions
These products created by Google are extensions to software created by other organizations.
Blogger Web Comments (Firefox only)
Displays related comments from other Blogger users.
A browser plug-in that enables development of off-line browser applications.
Allows users to send text messages to their mobile phone (US only) about web content.
Web browser toolbar with features such as a Google Search box, phishing protection, pop-up blocker as well as the ability for website owners to create buttons.
Mobile products
Online mobile products
These products can be accessed through a browser on a mobile device or a standard desktop web browser such as Firefox.
Only available on some US networks. Allows you to post to your Blogger blog from a mobile device.
Read a list of all Google Calendar events from a mobile device. There is also the option to quickly add events to your personal calendar.
Access a Gmail account from a mobile device using a standard mobile web browser. Alternatively, Google provides a specific mobile application to access and download Gmail messages quicker.
Access Google News on a mobile device using a simpler interface compared to the full online application.
Makes any web page mobile-friendly.
Simple version of iGoogle – you must visit the information page to choose which modules to display on your personal mobile version as not all modules are compatible.
Updated version of the previous Froogle Mobile
View Google Reader on a mobile device.
Search web pages, images, local listings and mobile-specific web pages through the Google search engine. If a webpage is not tailored for a mobile device Google will provide a simple text version of the webpage generated using an algorithm.
Lets you view photo albums that you have stored online.
Google Latitude is a mobile geolocation tool that lets your friends know where you are via Google Maps.
Google Maps Navigation (Mobile, Android only)
A GPS navigation system, like 3D views, turn-by-turn voice guidance and automatic rerouting.
Downloadable mobile product
Some of these products must be downloaded and run from a mobile device.
A downloadable application that has many advantages over accessing Gmail through a web [interface] on a mobile such as the ability to interact with Gmail features including labels and archiving. Requires a properly configured Java Virtual Machine, which is not available by default on some platforms (such as Palm's Treo).
Mobile application for viewing maps on a mobile device, available for Android (also includes navigation), BlackBerry, Windows Mobile, iPhone OS, Symbian, J2ME and Palm OS smartphones or any phone with a properly configured Java Virtual Machine.
Mobile Updater (BlackBerry only)
Keeps all Google mobile products up-to-date. Also allows installation or uninstallation of these products.
Synchronizes a mobile phone with multiple Google calendars as well as contacts using a Google Account.
VoIP application exclusively for BlackBerry smartphones.
Text chat application, lacking the VoIP function present in BlackBerry version.
Sky Map (Mobile, Android only)
Augmented reality program displaying a star map which is scrolled by moving the phone.
A downloadable application for viewing YouTube videos on selected devices.
Listen (Mobile, Android only, from Google Labs)
A downloadable application for subscribing to and streaming podcasts and Web audio.
Web products
These products must be accessed via a Web browser.
Account management
Dashboard is an online tool that allows Google Account holders to view all their personal information Google is storing on their servers.
Advertising
An online tool that allows users to view traffic estimates for popular web sites and create media plans.
A hosted ad management solution
Advertisement program for Website owners. Adverts generate revenue on either a per-click or per-thousand-ads-displayed basis, and adverts shown are from AdWords users, depending on which adverts are relevant.
Google's flagship advertising product, and main source of revenue. AdWords offers pay-per-click (PPC) advertising, and site-targeted advertising for both text and banner ads.
AdWords Website Optimizer
Integrated AdWords tool for testing different website content, in order to gain to the most successful advertising campaigns.
Radio advertising program for US businesses. Google began to roll this product out on 15 May 2007 through its existing AdWords interface, however has been discontinued.
Calling system so users can call advertisers for free at Google's expense from search results pages. This service was discontinued.
Internet ad serving provider.
Scheme for non-profit organizations to benefit from free Cost-Per-Click advertising on the AdWords network.
CPM-driven television advertising scheme available on a trial basis, currently aimed towards professional advertisers, agencies and partners.
Communication and publishing
Google 3D Warehouse is an online service that hosts 3D models of existing objects, locations (including buildings) and vehicles created in Google SketchUp by the aforementioned application's users. The models can be downloaded into Google SketchUp by other users or Google Earth.
Custom domain and service integration service for businesses, enterprise and education, featuring Gmail and other Google products.
Document, spreadsheet and presentation application, with document collaboration and publishing capabilities.
News feed management services, including feed traffic analysis and advertising facilities.
Friend Connect is an online service that empowers website and blog owners to add social features to their websites. It also allows users to connect with their friends on different websites that have implemented Google Friend Connect on their website.
Mini-applications designed to display information or provide a function in a succinct manner. Available in Universal or Desktop format.
It is simply how you present yourself on Google products to other Google users. It allows you to control how you appear on Google and tell others a bit more about who you are.
Gmail (Also known as Google Mail)
Free Webmail IMAP and POP e-mail service provided by Google, known for its abundant storage and advanced interface. It was first released in an invitation-only form on April 1, 2004. Mobile access and Google Talk integration is also featured.
iGoogle (Previously Google Personalized Homepage)
Customizable homepage, which can contain Web feeds and Google Gadgets, launched in May 2005. It was renamed to iGoogle on April 30, 2007 (previously used internally by Google).
Web clipping application for saving online research. The tool permits users to clip text, images, and links from pages while browsing, save them online, access them from any computer, and share them with others. Google recently stopped development on Notebook and no longer accepts sign-ups, While old users can still access their notebooks, newcomers are offered to try other services such as Google Docs and Google Bookmarks

[

1

]

.
Knol is a service that enables subject experts and other users to write authoritative articles related to various topics.
Web conferencing software, used internally by Google's employees. Google acquired the software from creator Marratech on April 19, 2007. Google has not yet stated what it will do with the product.
Social networking service, where users can list their personal and professional information, create relationships amongst friends and join communities of mutual interest. In November 2006, Google opened Orkut registration to everyone, instead of being invitation only.
Photos of the world.
Online photo sharing, with integration with the main Picasa program.
Web-based news aggregator, capable of reading Atom and RSS feeds. It allows the user to search, import and subscribe to feeds. The service also embeds audio enclosures in the page. Major revisions to Google Reader were made in October 2006.
Sites (Previously Jotspot)
Website creation tool for private or public groups, for both personal and corporate use.
SMS Channels (Google India Only)
Launched September 2008, allows users to create and subscribe to channels over SMS. Channels can be based on RSS feeds.
Questions and Answers (Chinese / Russian / Thai / Arabic Only)
Community-driven knowledge market website. Launched on June 26, 2007 that allows users to ask and answer questions posed by other users. [1]
Known as "GrandCentral" before 2009-03-11, this is a free voice communications product that includes a POTS telephone number. It includes a follow-me service that allows the user to forward their Google voice phone number to simultaneously ring up to 6 other phone numbers. It also features a unified voice mail service, SMS and free outgoing calls via Google's "click2call" and 3rd party dialers.
Still in early developmental stages, Google Wave is a product that helps users communicate and collaborate on the web. A "wave" is equal parts conversation and document, where users can almost instantly communicate and work together with richly formatted text, photos, videos, maps, and more. [2]
Popular free video sharing Web site which lets users upload, view, and share video clips. In October 2006, Google, Inc., announced that it had reached a deal to acquire the company for $1.65 billion USD in Google's stock. The deal closed on 13 November 2006.
Google Sidewiki is a browser sidebar that enables you to contribute and read helpful information alongside any web page. The service came to be online since Sep 23, 2009?. [3]
Development
Open Source mobile phone platform developed by the Open Handset Alliance
A tool that allows developers to write and run web applications.
Google's site for developers interested in Google-related development. The site contains Open Source code and lists of their API services. Also provides project hosting for any free and open source software.
Web Mashup creation with publishing facilities, as well as syntax highlighting and debugging (Deprecated, since January 14, 2009).
A set of common APIs for building social applications on many websites.
Allows developers to create custom search results that Google users can add to their search pages.
Sitemap submission and analysis for the Sitemaps protocol. Renamed from Google Sitemaps to cover broader features, including query statistics and robots.txt analysis.
An open source Java software development framework that allows web developers to create Ajax applications in Java.
An Operating System utilizing the Linux kernel and a custom Window manager.
A compiled, concurrent programming language developed by Google.
Javascript tools used by Google products such as GMail, Google Docs and Google Maps
Mapping
Mapping service that indexes streets and displays satellite and street-level imagery, providing driving directions and local business search.
Edit the map in more than a hundred countries and watch your edits go into Google Maps. Become a citizen cartographer and help map your world.
Web Based building and editing tool to create 3D buildings for Google Earth.
Imagery of Mars using the Google Maps interface. Elevation, visible imagery and infrared imagery can be shown. It was released on March 13, 2006, the anniversary of the birth of astronomer Percival Lowell.
NASA imagery of the moon through the Google Maps interface. It was launched on July 20, 2005, in honor of the first manned Moon landing on July 20, 1969.
An Internet tool for viewing the stars and galaxies, you can now access this tool through a browser version of "Google Sky".
Taxi, limousine and shuttle search service, using real time position of vehicles in 14 US cities. Ride Finder uses the Google Maps interface and cooperates with any car service that wishes to participate (discontinued as of October 2009).
Public transport trip planning through the Google Maps interface. Google Transit was released on December 7, 2005, and is now fully integrated with Google Maps.
(For Google Earth, see "Standalone applications")
Search
Search engine for the blind and visually impaired. It prioritises usable and accessible web sites in the search results, so the user incurs minimal distractions when browsing.
E-mail notification service, which sends alerts based on chosen search terms, whenever there are new results. Alerts include web results, Groups results news, and video.
Google submission database, that enables content owners to submit content, have it hosted and make it searchable. Information within the database is organized using attributes.
Weblog search engine, with a continuously-updated search index. Results include all blogs, not just those published through Blogger. Results can be viewed and filtered by date.
Search engine for the full text of printed books. Google scans and stores in its digital database. The content that is displayed depends on the arrangement with the publishers, ranging from short extracts to entire books.
Online payment processing service provided by Google aimed at simplifying the process of paying for online purchases. Webmasters can choose to implement Google Checkout as a form of payment.
Search engine for programming code found on the Internet.
Once part of Google Translate, it is now a standalone service that allows searching of words and phrases from over 22 languages

[

2

]

.
Collection of links arranged into hierarchical subcategories. The links and their categorization are from the Open Directory Project, but are sorted using PageRank.
Navigation directory, specifically for Chinese users.
Options for testing new interfaces whilst searching with Google, including Timeline views and keyboard shortcuts.
Online news aggregator that mimics the experience of flicking through a newspaper or magazine, allowing visual search of stories in manner similar to microfiche.
Searchable US business news, opinion, and financial data. Features include company-specific pages, blog search, interactive charts, executives information, discussion groups and a portfolio.
Web and e-mail discussion service and Usenet archive. Users can join a group, make a group, publish posts, track their favorite topics, write a set of group web pages updatable by members and share group files. [4]. In January, 2007, version 3 of Google Groups was released. New features include the ability to create customised pages and share files.
Game that induces participants to submit valid descriptions (labels) of images in the web, in order to later improve Image Search.
Image search engine, with results based on the filename of the image, the link text pointing to the image and text adjacent to the image. When searching, a thumbnail of each matching image is displayed.
Collection of linguistic applications, including one that allows users to translate text or web pages from one language to another, and another that allows searching in web pages located in a specific country or written in a specific language.
Search engine tailored towards everyday needs, such as train times, recipes and housing.
A specialised search engine that obtains Film showing times near a user-entered location as well as providing reviews of films compiled from several different websites.
A site containing links to a large archive of Chinese pop music (principally Cantopop and Mandopop), including audio streaming over Google's own player, legal lyric downloads, and in most cases legal MP3 downloads. The archive is provided by Top100.cn (i.e. this service does not search the whole Internet) and is only available in mainland China. It is intended to rival the similar, but containing links to illegal music, service provided by Baidu.
Automated news compilation service and search engine for news. There are versions of the aggregator for more than 20 languages. While the selection of news stories is fully automated, the sites included are selected by human editors.
Feature within Google News, that allows users to browse articles from over 200 years ago.
Search engine to search through millions of patents, each result with its own page, including drawings, claims and citations.
Price engine that searches online stores, including auctions, for products.
Google China's search trend site, similar to Google Zeitgeist. Currently part of Google Labs.
Search engine for the full text of scholarly literature across an array of publishing formats and scholarly fields. Today, the index includes virtually all peer-reviewed journals available online.
List of items generated when the user enters a few examples. For example, entering "Green, Purple, Red" produces the list "Green, Purple, Red, Blue, Black, White, Yellow, Orange, Brown."
Mobile phone short message service offered by Google in several countries, including the USA, Japan, Canada, India and China and formerly the UK, Germany and Spain. It allows search queries to be sent as a text message. The results are sent as a reply, with no premium charge for the service.
Creates tables of information about a subject from unstructured data
Auto-completion in search results while typing to give popular searches.
Listings for search engines for university websites.
Non-premium phone service for searching and contacting local businesses
Web History (Previously Google Search History / Personalized Search)
Web page tracking, which records Google searches, Web pages, images, videos, music and more. It also includes Bookmarks, search trends and item recommendations. Google released Search History in April 2005, when it began to record browsing history

[

3

]

, later expanding and renaming the service to Web History in April 2007.

[

4

]
Web search engine, which is Google's core product. It was the company's first creation, coming out of beta on September 21, 1999, and remains their most popular and famous service. It receives 1 billion requests a day and is the most used search engine on the Internet.
Statistics
Traffic statistics generator for defined websites, with strong AdWords integration. Webmasters can optimize their ad campaigns, based on the statistics that are given. Analytics is based on the Urchin software and the new version released in May 2007 integrates improvements based on Measure Map.
Data trend viewing platform to make nations' statistics accessible on the internet in an animated, interactive graph form.
Graph plotting application for Web Search statistics, showing the popularity of particular search terms over time. Multiple terms can be shown at once. Results can also be displayed by city, region or language. Related news stories are also shown.
Collection of lists of the most frequent search queries. There are weekly, monthly and yearly lists, as well as topic and country specific lists. Closed 22 May 2007 and replaced by "Hot Trends, a dynamic feature in Google Trends".
Hardware products
Hardware device that can be hooked to corporate intranets for indexing/searching of company files.
Reduced capacity and less expensive version of the Google Search Appliance.
A 4U rack mounted server for Google Radio Automation system.
Other products
Google's directory assistance service, which can be used free of charge from any telephone in the US and Canada.
Puts you in charge of your health information. It claims to be safe, secure, and free. Organize your health information all in one place.
The other day I purchased a Plantronics Savi Office wireless phone set which enables me to talk on the phone or interent all from one convienent spot.
Add to this skype and google talk plus some recording software and I have a complete meeting house where I can talk and record teleseminars, interviews etc all from one convienent place.
The main reason I got this was I like to get away from the computer so now I can sit outside and enjoy the sun while still being connected.
BTC Direct here in Australia sells and services these great phones.
Click here to see their current prices.